Click to book exhibition space
The ICASA Hybrid Exhibition in 2021 will provide exhibitors the opportunity to interact with over 10,000 expected attendees both on-site and through our virtual exhibition platform. Several online tools have been introduced to improve and increase exhibitor's visibility to make this hybrid show enjoyable for both delegates and exhibitors. Virtually connected delegates can interact with Exhibitor personnel at the booth through the online chat system.
Exhibitors will be asked to provide the conference organizers their company's logo and a 250-word Company Profile. For increased visibility, this will be posted on the conference website.
Two (2) exhibitor badges and three (3) online Booth Representatives Access are available to all exhibitors. The cost of additional In-person Exhibitor Badges or Additional Virtual Chat Access is $300 USD.
Please contact us via email at: exhibition@saafrica.org or by phone or WhatsApp: +233(0)555 179 976
What you Benefit as a Hybrid Exhibitor at ICASA 2021 South Africa
Name, description, and contact information about the organization on ICASA 2021 Website
Name, description, and contact information about the organization on ICASA 2021 App
Name, description, and contact information about the organization on ICASA 2021 Programme eBook
2 in-person exhibitor badges and 2 Virtual Chats
In-person and Virtual Exhibition Space
Header/banner of the organization
Text and/or video chat on a one-to-one basis (either live or scheduled)
Links to social media (Facebook, Twitter, Instagram, LinkedIn and YouTube)
Organization's URL (website address link)
The ability to text or video chat in a group (live public group chat or scheduled meetings with multiple participants)
Option for a video presentation by the exhibitor
Drop a business card or a contact form in the mail.
When a delegate visits the booth/page, the exhibitor is alerted.
Statistics for your booth (live access to clicks and contact form/business card gathering data after the conference)
Product classification
Video material that is embedded
Uploads of content/additional materials (links to documents or website URLs, surveys and polls)
Virtual TV monitor for video playback
Dedicated support before and during the event
Book your Hybrid Exhibition Space now – DEADLINE: 15th October 2021, 23h59 GMT
Booth Samples and Benefits
18m2 (3D Virtual Booth)

9m2 (2D Virtual Booth)

Price - $10,050
Price - $5,257
18m2 (3D Virtual Booth)
9m2 (2D Virtual Booth)
In-person Benefits
Virtual Benefits
In-person Benefits
Virtual Benefits
Chairs - 4
No of design screens -5
Chairs -2
No. of design screens-4
Table - 2
Online Booth Reps - 3
Tables -1
Online booth Reps -2
Socket Point -2
No. of Videos -3
Socket Point - 1
No. of Videos - 2
Waste Basket -2
No. of Documents- 5
Waste Basket - 1
No. of Documents-2
Lighting
Custom Booth Colors
Lighting
Custom booth colors
Header
User-friendly booth customization
Header
User-friendly booth customization
Booth Activity Report
Booth Activity Report
No. of URL links - 6
No. of URL links - 4
One-on-one meeting booking
One-on-one meeting booking
Exhibitors can also contact exhibition@saafrica.org for virtual booth customization and design by our services at a fee.
NB: In-person exhibtion "space only" cost 600 USD per quare metre (m2)
Exhibitors can purchase either

Space only (minimum purchase of 9m2). Exhibitors who order space only are required to bring their own booth. The cost per square meter is USD 600 for both commercial and non-commercial organizations

Shell scheme Packages, which comes in 2 sizes: 9 m2 and 18 m2

Please be aware of the following:

Stand and floor and spaces are assigned by the conference secretariat on a "first come, first served" basis, according to the dates when applications are received.

Major Industry sponsors receive priority to select their location. Spaces will be grouped in island formations according to the type of organization and standard guidelines

Only fully completed exhibition space orders will be accepted. The exhibition space order will only be confirmed upon receipt of payment in full in accordance with the general terms and conditions. The conference secretariat reserves the right to accept or reject applications and to assign spaces.

For In-person Exhibition Only
Purchase square meter
No. of Exhibitor badge
Up to 25 m2
3
From 26 to 50 m2
6
From 51 to 75 m2
10
From 76 to 100 m2
15
Above 100 m2
20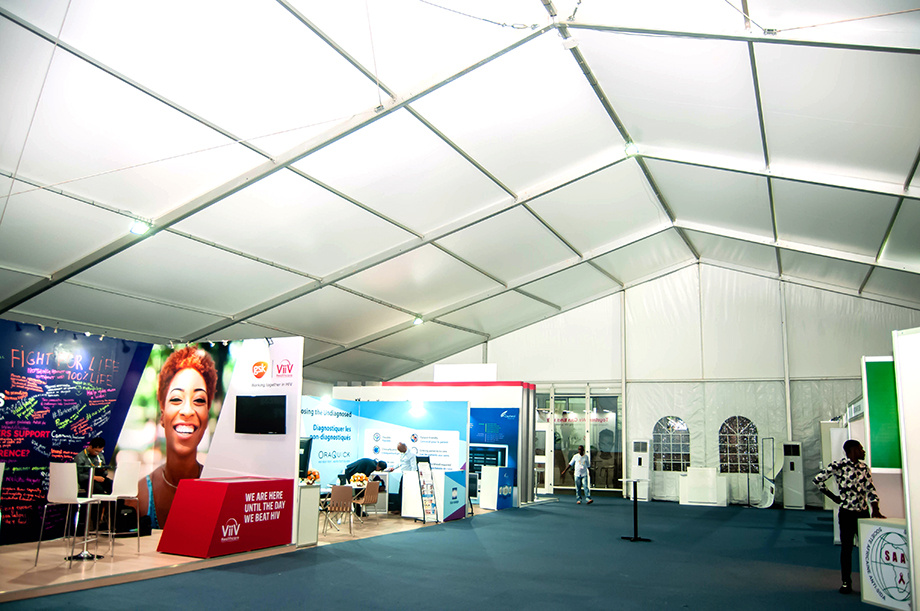 ICASA 2019 In-person Exhibition Hall


Virtual Exhibition Hall
Exhibitors will have the opportunity to participate in person or virtual. However, in the event that the COVID-19 pandemic upsurges, ICASA 2021 Exhibition will go fully virtual.